80 King Street · Route 2A · Littleton MA 01460 · (978) 486-0112 · I495 Exit 79 (Old Exit 30)

What's In Zach's Attic Today?
As of December 30, 2022 we have the following used and vintage instruments in Zach's Attic:
Used Fender FS-52 Lap Steel $299.99
Used Fender Pro JR. 15 watt tweed amp $275.00
Used Vox AC-30VR $399.00
Almansa 401-1/2 Half Size Classical more >>>
Click on one of these instruments or just scroll down for photos and more information.
Zach's Archives
Want to peek at the extraordinary range of cool and interesting instruments that have passed through Zach's Attic? Just click HERE!
Contributing to Zach's Attic
We're always looking for interesting used and vintage guitars, basses and other fretted instruments that need new homes. (Sorry, we don't accept used band instruments.)
If you have a used or vintage instrument that you think Zach might be interested in, bring it in and show it to him. (Call ahead to make sure he'll be in the store when you come.) If he likes your instrument we can work out a trade or buy it outright.
You can contact Zach by phone at the number above or via our Ask Us! page.
Our Guarantee
Buying a used or vintage instrument can be a scary process. If you don't know what you're looking for, you can easily overpay or end up with an inferior (or even unplayable) instrument.
When you buy a used or vintage instrument from The Minor Chord we guarantee it to be as described. If there are flaws in the instrument that we know about, we'll tell you. If there are significant flaws we didn't notice and disclose, tell us within 30 days and we'll cheerfully give you your money back.
The Minor Chord is a music store you can trust!
Common problems with used instruments
We see a lot of used instruments at The Minor Chord and a few common issues seem to show up in many of them. If you are thinking of buying an instrument on the private market, make sure you can spot these common flaws.
Lifting bridges
Most bridges on acoustic guitars are simply glued to the guitar top. If the glue joint starts to separate you are looking at a dangerous guitar. Six steel strings exert a huge tension on the bridge, and if it suddenly comes loose it can seriously injure anyone nearby. The staff at The Minor Chord has seen this happen - so we always inspect the bridge of an acoustic guitar before restringing it.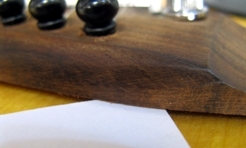 Piece of paper under a lifting bridge
If you can slip a sheet of paper under the bridge of your guitar (see picture) you should relax the string tension immediately and bring the instrument to us for inspection.
An experienced luthier can remove a bridge and reglue it, but the time and labor involved makes the process too expensive for beginner and intermediate guitars.
High action
The distance between the strings and the fingerboard is called the action height. If the action is too high the guitar becomes hard (or even impossible) to play because it takes too much effort to press a string against the fingerboard. In addition, the guitar will probably not play in tune because each string has to be stretched so much (which raises its pitch) as it is pressed down.
Proper action height depends on two factors: The alignment of the neck and the height of the saddle (the point at which the strings rest on the bridge).
Electric and steel-string acoustic guitars usually have a truss rod running down the neck that can be used to adjust neck alignment. Classical-style guitars with nylon strings typically do not have a truss rod, and the only way to realign the neck is for a luthier to remove, shim and reinstall the neck - a major operation. The same operation is required on electrics or steel-string acoustics if the truss rod doesn't have enough available play to achieve the needed adjustment.
Saddle height is easily adjusted on electric guitars using a very small allen-head wrench. The saddles on acoustics and classical nylon strings may simply lift out of the bridge and can be shaved or shimmed to achieve the correct height. If these adjustments cannot bring the action height to a playable level, an expensive neck reset is required.
A low action height is desirable for easy playing but the action cannot be lowered so much that the strings start buzzing against the frets. Inexpensive guitars tend to have uneven frets, which means that the action height cannot be brought very low at all. Resetting or dressing the frets can even them up but it is a time consuming and expensive process, worthwhile only for valuable guitars.
All of these adjustments related to action height are fussy and interrelated. It's best to leave them to an experienced luthier, which means it is usually not economical to rescue an inexpensive guitar having these problems.