80 King Street · Route 2A · Littleton MA 01460 · (978) 486-0112 · I495 Exit 79 (Old Exit 30)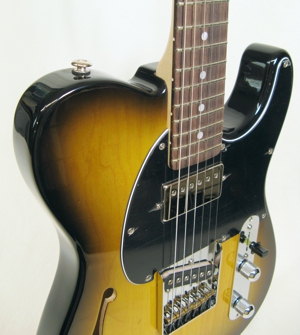 Latest G&L ASAT Bluesboy Arrivals
G&L ASAT Classic Bluesboy Semihollow electrics are very popular with our customers. Versatile guitars with a range of tones from bite and growl to laid-back and bluesy, they have more tricks than a standard Tele-style guitar.
We just received two of these instruments - this one in classic Two-Tone Sunburst with an upgraded Seymour Duncan Seth Lover humbucker in the neck position, and another in a super-cool Blonde finish.
See lots more info and photos on our G&L page. Click HERE for the Two-Tone Sunburst, and HERE for the Blonde.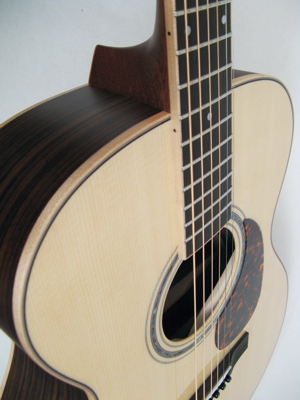 Larrivee OM / Bearclaw Spruce
Have you discovered Larrivée acoustics? Made in Jean Larrivée's California workshops, these guitars have their own style and voice. Jean was trained as a classical luthier, and his steel-string instruments incorporate some of those same design elements.
We just received this OM-03R with a beautiful bearclaw-patterned solid Sitka spruce top and solid rosewood back and sides. More >>>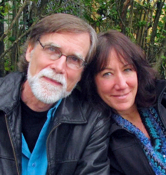 We Help You Make Music!
Come to us for quality, value and service. Our prices are competitive with chain music stores and internet dealers, but you get so much more!
We have over 100 models of guitars and basses, including instruments you may not find anywhere else in New England - plus ukuleles, mandolins, banjos, digital pianos, band instruments, amps and more.
We specialize in fine instruments and amps from respected makers including
Customers come from Massachusetts, Rhode Island, New Hampshire, and even Maine to play our extensive collection. And when you need advice or service, we're here for you.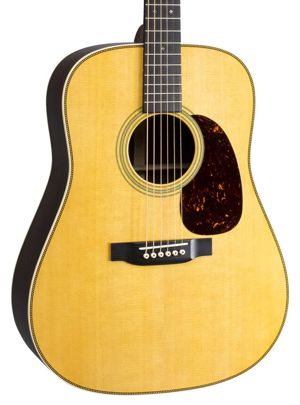 New and Vintage Martins
Martin guitars never fail to impress and our new D-18 is no exception. This iconic guitar has just arrived from the Martin workshops in Pennsylvania and it demands to be played! We also have a vintage 1975 D-35 with the full-bodied tone that only a vintage guitar can produce. Click here to watch Zach's video comparing three legendary Martins. (Unfortunately, the Martin HD-28 in the video has been sold and is no longer available.)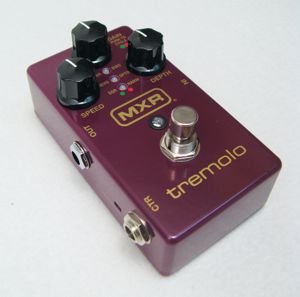 Is It Time To Try an Effects Pedal?
The sound of an electric guitar or bass is created not just by the instrument itself, but by the entire electronic chain between the instrument and the listener.
The most important electronic component, of course, is the amplifier. But amps can't do everything. If you're looking for that special distinctive sound, you will need to look at standalone effects pedals.
Inserted between your instrument and your amp, these pedals can deliver effects - even during a live performance - that would otherwise require post-production tweaking in a recording studio.
Here are some of the most popular pedal types you might want to add to your rig. More >>>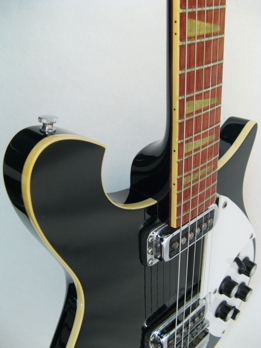 Looking for a Pre-owned or Vintage Instrument?
How about this vintage 1993 Rickenbacker 620 in Jetglo Gloss Black?
A small and comfy solidbody design with a neck-through body and maple neck with the reddish Bubinga fretboard. Great for rock n' roll with the Hi-gain pickups. Excellent condition with minimal play wear. Offered at $1,699.00 in original Rickenbacker hardshell case.
Check out our current used and vintage selection, and see what's on the way! More >>>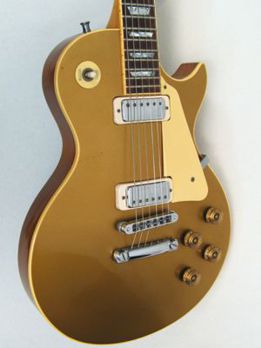 Have a Guitar You Never Play?
We're always interested in your top-condition used guitars and basses. Consign or sell outright for extra cash, or trade towards the guitar of your dreams. Call to speak with Zach or use our Ask Us! page to find out what that instrument in the closet might be worth.
Find out more here >>>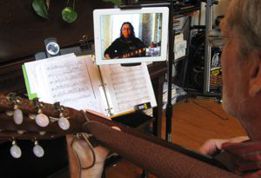 In-Person Lessons Are Back
We have been offering only online lessons since the beginning of the COVID-19 pandemic. But beginning in September, some of our teachers are offering in-person lessons again. Masks are required, and we ask you to wait in your car instead of our waiting room.
We completely understand if you're not comfortable yet with in-person lessons, so our teachers are still offering online lessons as well.
Either way, give us a call or send us a message via our Ask Us! page. Don't forget, all our teachers offer free no-obligation trial lessons.
Store Hours
| | |
| --- | --- |
| Monday | 11AM - 9PM |
| Tuesday | 11AM - 9PM |
| Wednesday | 11AM - 7PM |
| Thursday | 11AM - 7PM |
| Friday | 11AM - 7PM |
| Saturday | 9AM - 5PM |
| Sunday | CLOSED |
CLOSED MONDAY JULY 4
INDEPENDENCE DAY
NO PRIVATE LESSONS
Click here to see our web site privacy policy.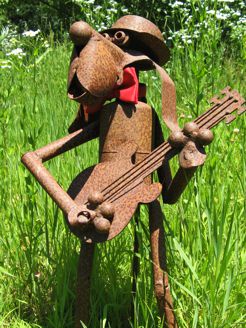 Summer is here! Make Music!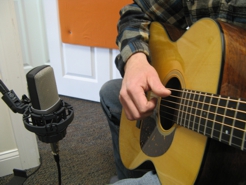 You Can Listen To Our Guitars
The sound character of an acoustic guitar is really impossible to convey with just words. The best way to appreciate a guitar is to hear it in person.
To help you decide whether it's worth the trip to try a guitar in person, we've made short recordings of some of our best instruments. more >>>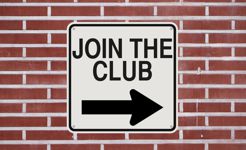 Want to earn 10% back on your purchases? Want to be first to hear about the latest gear? It's all free with our Backstage Pass! Just send us a message here and we'll sign you up.

Or comments? We're here to help.
Just use our Ask Us page!
Minor Chord Video Library
We've produced videos on a range of topics including shopping guides, product reviews, and how-to instructions. Check out our video library! more >>>

Like us on Facebook and be first to hear about cool new stuff! more >>>