Now at 80 King Street · Littleton MA 01460 · (978) 486-0112 · Interstate 495 Exit 30

What's In Zach's Attic Today?
As of Febuary 12th, 2019 we have the following used and vintage instruments in Zach's Attic:
Click on one of these instruments or just scroll down for photos and more information.
Zach's Archives
Want to peek at the extraordinary range of cool and interesting instruments that have passed through Zach's Attic? Just click HERE!
Contributing to Zach's Attic
We're always looking for interesting used and vintage guitars, basses and other fretted instruments that need new homes. (Sorry, we don't accept used band instruments.)
If you have a used or vintage instrument that you think Zach might be interested in, bring it in and show it to him. (Call ahead to make sure he'll be in the store when you come.) If he likes your instrument we can work out a trade or buy it outright.
You can contact Zach by phone at the number above or via our Ask Us! page.
Our Guarantee
Buying a used or vintage instrument can be a scary process. If you don't know what you're looking for, you can easily overpay or end up with an inferior (or even unplayable) instrument.
When you buy a used or vintage instrument from The Minor Chord we guarantee it to be as described. If there are flaws in the instrument that we know about, we'll tell you. If there are significant flaws we didn't notice and disclose, tell us within 30 days and we'll cheerfully give you your money back.
The Minor Chord is a music store you can trust!

Our Used and Vintage Instruments
Zach is our store manager and head instrument buyer. He hunts down the top quality used and vintage instruments that we feature here in "Zach's Attic".
Vintage Gibson ES-355TDSV
We are more than excited to get a classic Gibson model in on trade. Here we have a 1977 Gibson ES-355TDSV stereo varitone model. These do not come around often as most folks tend to hold on to these guitars for quite a while.
The original humbuckers sound fantastic plugged in, not too hot like a lot of modern ones. It's missing the pickguard and maestro vibrato arm but overall it's in very nice players condition. No major issues or cracks, a small wear mark on the back of the neck. The gold hardware has oxidized a bit but the guitar cleaned up nicely.
Fresh setup for .010-.046, we know this will go quick. Slimmer nut width is very easy to wrap around, plenty of fret life left. Channel your inner B.B. King or Chuck Berry! Offered at $2,499 including the hardshell case.
The specs:
Made in U.S.A in 1977
Classic Gibson Semi-Hollowbody
Multi-bound body
Arched maple top with f-holes
Maple back & sides
Dark cherry/walnut finish
Mahogany neck with volute
Ebony bound fretboard
Pearl block inlays
Fancier Gibson headstock design
Two Gibson humbuckers
Maestro tailpiece, missing vibrato arm
Tune-o-matic bridge
Amp style knobs
Originally stereo, wired now for mono
Vari-tone rotary switch
Gibson tulip style tuning machines
Gold hardware
Missing pickguard
Hardshell case included
Martin HD-28
Sometimes a customer purchases an instrument, then a little while later decides on a different shape, wood, etc. When this happens, it's a great opportunity for the next customer get a fine deal. Originally bought from us only a few months ago, this HD-28 was traded back in towards a smaller body style. With minimal playing time on it, it's in near mint condition.
The HD-28 is a full sounding rosewood/spruce dreadnaught that has nice articulation with the scalloped bracing. Plenty of boom and power. Now selling new for over $3,000.00, we're offering this barely used one at $2,199.00 in the original Martin hardcase.
The specs:
Dreadnaught body style with gloss finish
Solid Indian Rosewood back & sides
Solid Sitka spruce top
Herringbone trim
Forward-shifted X brace
Scalloped bracing
Ebony bridge and fretboard
Pearl circle inlays
Modified low oval neck shape with high-performance taper
25.4 inch scale
Nickel open gear butterbean tuners
1-11/16 inch nut width
Near mint condition
Hardshell case included
Fender Flea Jazz Bass
Here's a very cool bass just traded in, the Fender Flea Jazz Bass in the roadworn shell pink finish. Flea from the Red Hot Chili Peppers is one of the most recognizable bass players in the world. This model is based off of his personal 1961 Jazz Bass heard on several of their albums.
Shell pink is a color that just isn't that common so it's nice to see from time to time. The stacked controls are a nice feature, and the Vintage '64 pickups are a bit more unique sounding than a stock setup.
It certainly has a nice vintage-style vibe to it for sure. We're stocked up on nice used basses in the Attic right now, however with how unique and cool this one is, we expect it to sell fast. Offered at $799.00 with gig bag included.
The specs:
Made in Mexico
Jazz Bass body style
Alder body
Shell pink roadworn finish
Maple neck
Rosewood fingerboard
U shape neck profile
7.25 inch radius
34 inch scale
1.5 inch nut width
Dual Vintage '64 J Bass single coil pickups
Stacked volume/tone neck and bridge controls
Vintage style bridge with threaded saddles
Custom Flea scratched neck plate
Gig bag included
Carvin LB-70

Just traded in is this Carvin LB-70 bass in Koa wood. Reminiscent of an Ibanez SR series bass with its long dual cutaway horns, sleek body, etc. Easy to play with its slim neck, smooth satin finish, and ebony fretboard.

The active electronics are punchy with nice EQ settings. These are custom instruments and the used price does not reflect how nice the instruments are. Very good condition, with the original hardshell case for $649.00

The specs:

Made in U.S.A.
Solid Koa body
Koa neck with rounded heel
Slim neck profile
Ebony fretboard
Dot inlays
24 Frets
Dual pickups
Active electronics
Black hardware
Hardshell case included
Washburn Force 8 Bass
This is a very nice 1980's-era Washburn Force 8, a solid instrument for short money. Essentially a P-Bass copy, the serial number indicates it was made in Japan in 1983. (The 80's are considered a good era for Japanese guitar building.)
It appears to have Japanese hardwood on the back and sides and a flamed maple top with single cream binding. Lightweight overall, nice chunky soft-'V' neck profile, maple neck and fretboard. Single black P-Bass style split pickup. A very 80's-style Washburn headstock logo.
This bass definitely does not lack tone! It's straightforward like a P-Bass, plug it in, dial in your volume and tone knob and away you go! A plus is that it's not too heavy to stand with so this would make a really good everyday gigging bass. Nice rectangular tweed hardshell case included.
The specs:
Built ca. mid-1980s
Thick dual-cutaway body style
Flamed maple top with sunburst finish
Cream binding
Maple neck and fingerboard with black dot inlays
Chunkier V-profile neck shape
P-Bass style split pickup
One volume, one tone control
Chrome hardware
3-ply white pickguard
Tweed hardshell case included
Taylor 310-ce

Just in time for the Holidays, another Taylor has found it's way into the Attic. The 310-ce was in the Taylor catalog for many years and was their most affordable U.S. made acoustic/electric dreadnaught with a cutaway.Taylor's in general are bright sounding guitars, and nowadays the dreadnaught has fallen out of favor in their line. So if it's a larger, boomier sound you're looking for, paired with Taylor's signature easy playability, this could be your instrument.

Setup with a fresh set of light gauge strings, it has noticeably great low action all the way up the neck. The new 300 series with cutaway V-Class Taylor's go for $1,999.00 now. Offered at $1,199.00 in excellent condition with original hardcase. This is a one owner guitar, sold here originally.

The specs:

Made in the U.S.A in El Cajon, CA
Dreadnaught body style with cutaway
Solid Sapele back and sides
Solid Sitka spruce top
Mahogany neck
Ebony bridge and fingerboard
Satin finish back and sides
Gloss finish top
25.5 inch scale
1-3/4 inch nut width
Pearl dot inlays
Tortoise pickguard
ES electronics
Excellent condition
Taylor hardshell case included
Vintage Banjolele

This special little banjolele was brought in by a local customer who has had it for many years. Upon inspection, we didn't see any maker's marks or names on it. However, the quality of build is very high and it was obviously made by a talented luthier. Our best guess is that since employees who worked for an established company like Martin or Vega were often allowed to build an instrument from time to time for themselves or family, this instrument is probably one of those. It dates to early in the 20th century when banjo and mandolin orchestras were prevalent.

It has survived extraordinarily well, appears to be mostly original and still plays with good action. Offered at $299.00

The specs:

No known maker, likely built ca. 1920's
22-1/2 inches long from top to bottom
Mahogany V profile neck
Ivoroid fretboard and headstock
Rosewood and birdseye maple resonator with inlay pattern in middle
Engraved flange
17 brackets
8 inch banjo head
Original tuning machines
Note: Paint smudge on resonator
Vintage 1966 Fender Vibro Champ Amp

This little Fender classic tube amp has just arrived into the Attic. These vintage Vibro Champ amps have been a staple of the small tube-amp world for a long time now and they are proven winners. Excellent for practice and portability with its lower wattage and lightweight frame.

The advantage of an amp this size is that you can crank it full tilt to harness its natural overdrive sound without blowing out the walls. Different electrics will cause it to break up at different overdrive levels as well. Dating to 1966 and with the original speaker, it's ready for its next journey.

Offered at $749.00 including a later-era Fender amp cover.

5 watts all tube
Vibrato
Two inputs
Volume, treble, bass, speed, intensity controls
Original 8 inch speaker
Two 12AX7 preamp tubes
6V6GT power tube
5Y3GT rectifier tube
Red jewel light
Excellent condition
Peavey Foundation Fretless Bass

Attention bass players: Have you thought about going fretless? Here is your chance with this Peavey Foundation fretless bass dating to 1991. Made in the U.S.A. it is a solidly built instrument with plenty of life left. More like a jazz bass, the neck is slim and easy to wrap around. Ultra smooth playability with the fretless fingerboard. The line fret markers are a nice visual aid.

This is a great deal on a U.S.-made instrument at $350.00. Gig bag included.

The specs:

Made in U.S.A in 1991
Double-cutaway poplar body
Sunburst finish
Bolt-on maple neck
Rosewood fretboard with pearl dot inlays
34 inch scale
Fixed bridge
Two single-coil pickups
Two volume, one tone control
Chrome hardware
Vintage Hagstrom 'Viking I' Hollowbody

We are excited to offer this rare 1960's Hagstrom Viking I hollowbody. Brought in by one of our local customers, it has that worn-in vintage vibe that so many players are looking for. The top of the guitar near the neck pocket was damaged long ago, but it was fixed expertly by the late luthier Jim Mouradian. This guitar is fun to just sit around and plunk on unplugged. Plugged in, although it's light and thin, it has a good depth of warmth to the tone as well.

Any decent electric from the 1960's typically commands a decent price. Because of the repaired top, we have priced this guitar to move fast at $499.00. Gig bag included.

The specs:

Made in Sweden ca. 1965-66
Thinline hollowbody with f-holes
Slim profile neck
1-5/8 inch nut width
Rosewood fretboard with pearl dot inlays
Hagstrom tailpiece
Metal bridge with adjustable saddles
Two single coil pickups
Two volume, two tone controls
3-way selector switch
Six original in-line tuners
Cream binding
Vintage Sunn 1X15 Bass Cabinet

Just arrived in the Attic - this early 70's 1X15 inch Sunn bass cabinet. Back in the 60's and 70's, Sunn was one of the top bass amp and cabinet manufacturers. Sturdy pine cabinet, very good condition with minimal wear, and it's not a huge cabinet compared to other 15-inchers. The speaker is located on the left side of the cabinet so when you tilt it onto its side feet, the speaker is right off the floor to dispense the sound. Very nice full and clear tone.

We have our G/K MB200 head set up to power the cab and it sounds great! The speaker only has an 80 watt rating, but it's mounted in an efficient open-vented cabinet so it still makes lots of noise. You won't need (or want) to put tons of power through it. Bassists out there...if you're lacking a 15 inch speaker in your rig and appreciate things vintage, this is a great deal at $349.00.

The specs:

Built in early 1970's
Pine cabinet
Single 15 inch Sunn Transducer 158B speaker
80 Watts
Measures 26" height, 24" wide, 15" deep
Four wheels
Tilt feature with four feet for stability off the wheels
Gibson 1959 ES-125 Special clearance price $999

Freshly traded in, we're excited to offer this vintage 1959 Gibson ES-125. A full hollowbody with f holes, this guitar can be enjoyed acoustically while just sitting around. These 50's dog ear P-90 pickups have an excellent full/meaty tone. Roll back the tone knob and get those jazzy sounds, make it brighter and the sound can yield much more treble and snap.

The neck is a nice chunky profile without being baseball bat sized. Nicely worn in, plays great. We have it setup for regular electric .011-.049's. Putting on bronze or flatwound strings will immediately beef up the tone and we will accommodate a setup of the customer's choosing.

The input jack was relocated from the side of the guitar to the top. There is an older (well done) neck heel repair. The trapeze tailpiece appears to be non-original and the pickguard is missing. Because of this we have priced the guitar accordingly at $1,099.00.

A non-original Gibson deluxe hardshell case is included.

The specs:

Arched maple top with f holes
Maple back
Mahogany sides
Sunburst finish
Adjustable rosewood bridge
Trapeze tailpiece
Mahogany neck
Rosewood fingerboard with dot inlays
Dog ear P-90 pickup
1 volume, 1 tone control
Kluson deluxe tuners
Missing pickguard
Input jack replaced to top
Neck heel repair
Non-original Gibson hardshell case included
Common problems with used instruments
We see a lot of used instruments at The Minor Chord and a few common issues seem to show up in many of them. If you are thinking of buying an instrument on the private market, make sure you can spot these common flaws.
Lifting bridges
Most bridges on acoustic guitars are simply glued to the guitar top. If the glue joint starts to separate you are looking at a dangerous guitar. Six steel strings exert a huge tension on the bridge, and if it suddenly comes loose it can seriously injure anyone nearby. The staff at The Minor Chord has seen this happen - so we always inspect the bridge of an acoustic guitar before restringing it.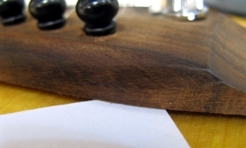 Piece of paper under a lifting bridge
If you can slip a sheet of paper under the bridge of your guitar (see picture) you should relax the string tension immediately and bring the instrument to us for inspection.
An experienced luthier can remove a bridge and reglue it, but the time and labor involved makes the process too expensive for beginner and intermediate guitars.
High action
The distance between the strings and the fingerboard is called the action height. If the action is too high the guitar becomes hard (or even impossible) to play because it takes too much effort to press a string against the fingerboard. In addition, the guitar will probably not play in tune because each string has to be stretched so much (which raises its pitch) as it is pressed dow