Now at 80 King Street · Littleton MA 01460 · (978) 486-0112 · Interstate 495 Exit 30

What's In Zach's Attic Today?
As of December 13th, 2018 we have the following used and vintage instruments in Zach's Attic:
Click on one of these instruments or just scroll down for photos and more information.
Zach's Archives
Want to peek at the extraordinary range of cool and interesting instruments that have passed through Zach's Attic? Just click HERE!
Contributing to Zach's Attic
We're always looking for interesting used and vintage guitars, basses and other fretted instruments that need new homes. (Sorry, we don't accept used band instruments.)
If you have a used or vintage instrument that you think Zach might be interested in, bring it in and show it to him. (Call ahead to make sure he'll be in the store when you come.) If he likes your instrument we can work out a trade or buy it outright.
You can contact Zach by phone at the number above or via our Ask Us! page.
Our Guarantee
Buying a used or vintage instrument can be a scary process. If you don't know what you're looking for, you can easily overpay or end up with an inferior (or even unplayable) instrument.
When you buy a used or vintage instrument from The Minor Chord we guarantee it to be as described. If there are flaws in the instrument that we know about, we'll tell you. If there are significant flaws we didn't notice and disclose, tell us within 30 days and we'll cheerfully give you your money back.
The Minor Chord is a music store you can trust!

Our Used and Vintage Instruments
Zach is our store manager and head instrument buyer. He hunts down the top quality used and vintage instruments that we feature here in "Zach's Attic".
Vintage Banjolele

This special little banjolele was brought in by a local customer who has had it for many years. Upon inspection, we didn't see any maker's marks or names on it. However, the quality of build is very high and it was obviously made by a talented luthier. Our best guess is that since employees who worked for an established company like Martin or Vega were often allowed to build an instrument from time to time for themselves or family, this instrument is probably one of those. It dates to early in the 20th century when banjo and mandolin orchestras were prevalent.

It has survived extraordinarily well, appears to be mostly original and still plays with good action. Offered at $299.00

The specs:

No known maker, likely built ca. 1920's
22-1/2 inches long from top to bottom
Mahogany V profile neck
Ivoroid fretboard and headstock
Rosewood and birdseye maple resonator with inlay pattern in middle
Engraved flange
17 brackets
8 inch banjo head
Original tuning machines
Note: Paint smudge on resonator
Vintage 1966 Fender Vibro Champ Amp

This little Fender classic tube amp has just arrived into the Attic. These vintage Vibro Champ amps have been a staple of the small tube-amp world for a long time now and they are proven winners. Excellent for practice and portability with its lower wattage and lightweight frame.

The advantage of an amp this size is that you can crank it full tilt to harness its natural overdrive sound without blowing out the walls. Different electrics will cause it to break up at different overdrive levels as well. Dating to 1966 and with the original speaker, it's ready for its next journey.

Offered at $749.00 including a later-era Fender amp cover.

5 watts all tube
Vibrato
Two inputs
Volume, treble, bass, speed, intensity controls
Original 8 inch speaker
Two 12AX7 preamp tubes
6V6GT power tube
5Y3GT rectifier tube
Red jewel light
Excellent condition
Martin D-1GT

We get our fair share of Martin dreadnaught guitars coming through the Attic. The D-18's, D-28's, etc. command higher prices. Here is a nice affordable all solid wood model: The D-1GT. Built in 2012, there is not much play wear on the guitar. Full dreadnaught sound, slimmer 1-11/16" nut width, the HPL neck is rugged and should be very stable over time.

This is an instrument that can be strummed hard and driven. Fresh setup, restrung with Martin Lights. $699.00 including the original Martin hardshell case.

The specs:

Dreadnaught body shape
Solid Sitka spruce top with gloss finish
Solid sapele back and sides
HPL neck
Richlite bridge and fingerboard
1-11/16 inch nut width
25.4 inch scale
Modified low oval profile neck
Chrome tuning machines with small buttons
Black pickguard
Martin hardshell case included
Excellent condition
Heritage Eagle Classic Natural

We are very excited to offer this Heritage Eagle Classic hollowbody in natural finish. This is an all solid carved jazz box and it sounds fantastic. These are very expensive new, and if you want a Gibson, you'll pay thousands more. Made in the original Kalamazoo, MI Gibson factory by only a handful of builders, this model dates to 1999.

The simple floating humbucker makes things very easy, just plug in, dial in the amp, and away you go. One volume knob, that's it. Overall in excellent, well cared for condition. There are some chemical reaction finish marks on the bottom of the guitar and one area of the back of the neck where the guitar sat on a stand for a while. Because of this, we've priced it down a bit.

It does not affect the guitar's playability at all. These don't come around very often. Fresh setup for D'addario EXL115W .011-.049 with the wound 3rd. $2,299.00 in original hardshell case.

The specs:

Made in Kalamazoo, MI in 1999
Solid carved Sitka spruce top
Solid curly maple back & sides
17 inch lower bout
3 inch wide body
5 piece maple neck
Ebony bridge and tailpiece
Ebony fretboard
White binding
1 floating jazz style humbucker
1 simple volume control
Original Hardshell case included
Fender Standard Jazz Bass
The Fender Precision Bass and Jazz Bass are the workhorses of the Fender bass line. Every time we get a used one in, it's gone quickly. They are solid, reliable, rugged basses and used ones can be had at a great price. Players tend to favor the Jazz Bass if they prefer a slimmer neck profile and dual pickups.
The burgundy finish on this instrument is a nice departure from the typical sunburst or black. Overall it's in good shape, but with some wear through the finish around the two strap buttons. Because of this it's priced a bit lower than usual - only $349.00.
The specs:
Made in Mexico, 2003
Alder body
Burgundy finish
Maple neck
Rosewood fingerboard
Slim neck profile
Dual single coil pickups
Two volume, one tone control
3-ply white pickguard
Bag or case not included
Peavey Foundation Fretless Bass

Attention bass players: Have you thought about going fretless? Here is your chance with this Peavey Foundation fretless bass dating to 1991. Made in the U.S.A. it is a solidly built instrument with plenty of life left. More like a jazz bass, the neck is slim and easy to wrap around. Ultra smooth playability with the fretless fingerboard. The line fret markers are a nice visual aid.

This is a great deal on a U.S.-made instrument at $350.00. Gig bag included.

The specs:

Made in U.S.A in 1991
Double-cutaway poplar body
Sunburst finish
Bolt-on maple neck
Rosewood fretboard with pearl dot inlays
34 inch scale
Fixed bridge
Two single-coil pickups
Two volume, one tone control
Chrome hardware
Vintage Hagstrom 'Viking I' Hollowbody

We are excited to offer this rare 1960's Hagstrom Viking I hollowbody. Brought in by one of our local customers, it has that worn-in vintage vibe that so many players are looking for. The top of the guitar near the neck pocket was damaged long ago, but it was fixed expertly by the late luthier Jim Mouradian. This guitar is fun to just sit around and plunk on unplugged. Plugged in, although it's light and thin, it has a good depth of warmth to the tone as well.

Any decent electric from the 1960's typically commands a decent price. Because of the repaired top, we have priced this guitar to move fast at $499.00. Gig bag included.

The specs:

Made in Sweden ca. 1965-66
Thinline hollowbody with f-holes
Slim profile neck
1-5/8 inch nut width
Rosewood fretboard with pearl dot inlays
Hagstrom tailpiece
Metal bridge with adjustable saddles
Two single coil pickups
Two volume, two tone controls
3-way selector switch
Six original in-line tuners
Cream binding
Vintage Sunn 1X15 Bass Cabinet

Just arrived in the Attic - this early 70's 1X15 inch Sunn bass cabinet. Back in the 60's and 70's, Sunn was one of the top bass amp and cabinet manufacturers. Sturdy pine cabinet, very good condition with minimal wear, and it's not a huge cabinet compared to other 15-inchers. The speaker is located on the left side of the cabinet so when you tilt it onto its side feet, the speaker is right off the floor to dispense the sound. Very nice full and clear tone.

We have our G/K MB200 head set up to power the cab and it sounds great! The speaker only has an 80 watt rating, but it's mounted in an efficient open-vented cabinet so it still makes lots of noise. You won't need (or want) to put tons of power through it. Bassists out there...if you're lacking a 15 inch speaker in your rig and appreciate things vintage, this is a great deal at $349.00.

The specs:

Built in early 1970's
Pine cabinet
Single 15 inch Sunn Transducer 158B speaker
80 Watts
Measures 26" height, 24" wide, 15" deep
Four wheels
Tilt feature with four feet for stability off the wheels
Vintage 1960 Guild X-50

You just never know what will come through the door! Amazingly, a customer just consigned another vintage hollowbody similar to the 1959 Gibson ES-125 that just arrived in the Attic. The new arrival is a Guild X-50.

A full hollowbody with a slimmer body than the ES-125, the X-50 features a single P-90 style single coil pickup with the same simple single volume and tone controls. The neck is a mid-profile shape, very easy to wrap around and play. The guitar has a gorgeous lightweight vintage feel to it. Excellent for blues, jazz, folk rock.

Guild was founded in 1952, and these earlier models are very collectable. The guitar appears to be all original with the exception of a second strap button. Overall in very good condition, it's certainly been played, but those years of play have resulted in a rich, well broken in tone. Offered at $1,199.00 with an Access bag included.

To hear this vintage guitar in action click here.

The specs:

Full hollowbody
Arched Spruce top with f-holes
Mahogany back and sides
Sunburst finish
Mahogany neck
Rosewood fretboard with pearl dot inlays
1 and 11/16 inch nut width
Trapeze tailpiece
Raised black pickguard
Original nickel tuners
One single coil pickup
One volume and one tone control
Gibson 1959 ES-125

Freshly traded in, we're excited to offer this vintage 1959 Gibson ES-125. A full hollowbody with f holes, this guitar can be enjoyed acoustically while just sitting around. These 50's dog ear P-90 pickups have an excellent full/meaty tone. Roll back the tone knob and get those jazzy sounds, make it brighter and the sound can yield much more treble and snap.

The neck is a nice chunky profile without being baseball bat sized. Nicely worn in, plays great. We have it setup for regular electric .011-.049's. Putting on bronze or flatwound strings will immediately beef up the tone and we will accommodate a setup of the customer's choosing.

The input jack was relocated from the side of the guitar to the top. There is an older (well done) neck heel repair. The trapeze tailpiece appears to be non-original and the pickguard is missing. Because of this we have priced the guitar accordingly at $1,099.00.

A non-original Gibson deluxe hardshell case is included.

The specs:

Arched maple top with f holes
Maple back
Mahogany sides
Sunburst finish
Adjustable rosewood bridge
Trapeze tailpiece
Mahogany neck
Rosewood fingerboard with dot inlays
Dog ear P-90 pickup
1 volume, 1 tone control
Kluson deluxe tuners
Missing pickguard
Input jack replaced to top
Neck heel repair
Non-original Gibson hardshell case included
Fender Special Edition
Standard Stratocaster

Mexican made Fenders have long been their workhorse instruments. The standard line is nice if you don't want to shell out the money for an American made guitar.

The glossy neck makes it pop a bit more than earlier satin neck finish models. Typical Strat setup with 3 single coil pickups. Five different selector switch positions will give you a great variety of tones.

This is a one owner trade in, excellent condition. $549.00 with gig bag included.

The specs:

Made in Mexico
Alder body
Black finish
Maple neck and fretboard
Vintage-tint gloss neck
3 Fender single coil pickups
Aged white knobs and pickup covers
Fender Blues Jr.

We don't really need to say too much about this amp, it's already one of Fender's all-time best-selling models. Great middle of the road size where it can be turned down sweet and low, but can certainly crank when dimed.

The "fat" switch is a nice feature in that it does what the title of the amp says...gives you a bluesy grit with some gain but not over-the-top wailing distortion.

This particular one is an older version, one owner, in excellent original condition. Functions perfectly. Come check it out soon before it's gone!

The specs:

15 Watts tube
12 inch Eminence speaker
3 X 12AX7 tubes
2 X EL84 tubes
Spring reverb
Fat switch
Black tolex with silver grille
Vintage Danelectro Model 122 'Cadet' Amplifier

Another early vintage tube amp has found it's way into the Attic. Small, lightweight, and snarly! Simple design format with the rear panel controls, turn it on, crank it up, and you'll hear that old tube tone.

With an amp this size, the type of guitar plugged into it really affects the sound. A Strat or Tele with single coils will keep it cleaner with a slight bit of grit at full volume. A strong P-90 or humbucker brings out much more of the natural tube gain when cranked.

This old-timer is a bit noisy when you're not playing but that doesn't matter when the volume is up.

A great value for the price, and a totally different sound than a Fender, Vox, Marshall, etc. Offered at $299.00

The specs:

Circa 1960
6 Watts
Three-tube circuit
1 x 6 inch original speaker
Picture frame cabinet with white sparkle finish
Dark grille cloth
Original leather handle
Rear control panel
Two inputs
1 volume, 1 tone knob
Excellent condition
Vintage Fender Silverface 'Drip Edge' Vibrolux Reverb Amplifier

We are thrilled to offer this highly collectable 'drip edge' Fender Silverface Vibrolux Reverb. Dating to around 1968, it's from a classic era for Fender tube amps. The aluminum drip-edge front panel was only offered for a short time on several Fender amp models making these a bit more prized.

Just serviced by our tube amp technician, it's ready to rock. 40 watts of all-tube power really cranks but won't blow your head off like a Twin Reverb can. The two original Oxford 'Fender Special Design' 10 inch speakers sound fantastic and can handle pedals easily. The genuine spring reverb is lush and the vibrato shakes like it should.

There have been several classic Fender tube amp models in the Attic recently and they've all sold quickly. This is a special opportunity and these amps are hard to find. Bring your favorite electric down and give it a try!

Click here to hear this vintage amplifier in action!

The specs:

Early Silverface 'drip edge' model c. 1968
40 watts all tube
Twin original Oxford 'Fender Special Design' 10 inch speakers
Normal and Vibrato channels with dual inputs each
'Bright' switch on each channel
Spring reverb and vibrato
Normal Channel: volume, treble, bass
Vibrato Channel: volume, treble, bass, reverb, speed, intensity
The original red jewel light has been replaced with a blue one
Excellent condition, no tears in the grille cloth
Common problems with used instruments
We see a lot of used instruments at The Minor Chord and a few common issues seem to show up in many of them. If you are thinking of buying an instrument on the private market, make sure you can spot these common flaws.
Lifting bridges
Most bridges on acoustic guitars are simply glued to the guitar top. If the glue joint starts to separate you are looking at a dangerous guitar. Six steel strings exert a huge tension on the bridge, and if it suddenly comes loose it can seriously injure anyone nearby. The staff at The Minor Chord has seen this happen - so we always inspect the bridge of an acoustic guitar before restringing it.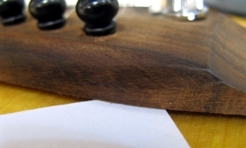 Piece of paper under a lifting bridge
If you can slip a sheet of paper under the bridge of your guitar (see picture) you should relax the string tension immediately and bring the instrument to us for inspection.
An experienced luthier can remove a bridge and reglue it, but the time and labor involved makes the process too expensive for beginner and intermediate guitars.
High action
The distance between the strings and the fingerboard is called the action height. If the action is too high the guitar becomes hard (or even impossible) to play because it takes too much effort to press a string against the fingerboard. In addition, the guitar will probably not play in tune because each string has to be stretched so much (which raises its pitch) as it is pressed down.
Proper action height depends on two factors: The alignment of the neck and the height of the saddle (the point at which the strings rest on the bridge).
Electric and steel-string acoustic guitars usually have a truss rod running down the neck that can be used to adjust neck alignment. Classical-style guitars with nylon strings typically do not have a truss rod, and the only way to realign the neck is for a luthier to remove, shim and reinstall the neck - a major operation. The same operation is required on electrics or steel-string acoustics if the truss rod doesn't have enough available play to achieve the needed adjustment.
Saddle height is easily adjusted on electric guitars using a very small allen-head wrench. The saddles on acoustics and classical nylon strings may simply lift out of the bridge and can be shaved or shimmed to achieve the correct height. If these adjustments cannot bring the action height to a playable level, an expensive neck reset is required.
A low action height is desirable for easy playing but the action cannot be lowered so much that the strings start buzzing against the frets. Inexpensive guitars tend to have uneven frets, which means that the action height cannot be brought very low at all. Resetting or dressing the frets can even them up but it is a time consuming and expensive process, worthwhile only for valuable guitars.
All of these adjustments related to action height are fussy and interrelated. It's best to leave them to an experienced luthier, which means it is usually not economical to rescue an inexpensive guitar having these problems.