Now at 80 King Street · Littleton MA 01460 · (978) 486-0112 · Interstate 495 Exit 30

What's In Zach's Attic Today?
As of February 14, 2018 we have the following used and vintage instruments in Zach's Attic:
Click on one of these instruments or just scroll down for photos and more information.
Zach's Archives
Want to peek at the extraordinary range of cool and interesting instruments that have passed through Zach's Attic? Just click HERE!
Contributing to Zach's Attic
We're always looking for interesting used and vintage guitars, basses and other fretted instruments that need new homes. (Sorry, we don't accept used band instruments.)
If you have a used or vintage instrument that you think Zach might be interested in, bring it in and show it to him. (Call ahead to make sure he'll be in the store when you come.) If he likes your instrument we can work out a trade or buy it outright.
You can contact Zach by phone at the number above or via our Ask Us! page.
Our Guarantee
Buying a used or vintage instrument can be a scary process. If you don't know what you're looking for, you can easily overpay or end up with an inferior (or even unplayable) instrument.
When you buy a used or vintage instrument from The Minor Chord we guarantee it to be as described. If there are flaws in the instrument that we know about, we'll tell you. If there are significant flaws we didn't notice and disclose, tell us within 30 days and we'll cheerfully give you your money back.
The Minor Chord is a music store you can trust!

Our Used and Vintage Instruments
Zach is our store manager and head instrument buyer. He hunts down the top quality used and vintage instruments that we feature here in "Zach's Attic".
Fender Silverface Princeton Reverb

Our newest arrival is the very popular Fender Princeton Reverb. This one, with its silverface panel and push/pull volume boost, dates it to around the 1978-80 range. All hand wired and rugged, it's seen some use for sure with some dings but it cleaned up nicely.

More importantly it functions perfectly. No scratchiness whatsoever in the controls.

The specs:

12 watts all tube
10 inch Original Fender Design speaker
2x 6V6, 5U4 rectifier tubes
2x 12AX7, 12AT7, 7025 tubes
Spring reverb and tremolo
Push/pull boost volume knob
Vol/bass/treble/reverb/speed/intensity knobs

The reason the Princeton Reverb remains so popular (and has recently been reissued) is that it is the perfect size tube amp for many occasions. It's small enough to enjoy at lower volumes while still maintaining its sound integrity. When cranked, the natural overdrive really growls. Some folks downplay the models with the push/pull boost but if that's what you like, then it certainly makes sense.

Reverb and tremolo are classic effects to enhance your sound. At home, in a club, or in the studio, this amp's a winner.
Acoustic Image
310BA Contra

Acoustic Image amplifiers are made in the USA and have quite a following among serious bassists looking for solid acoustic tone.

But these great amps are not just for bassists. They do a fantastic job for acoustic guitars and for jazz electric players too.

Three design factors contribute to this popularity:

First, the down-firing woofer (only 10 inches!) encourages your low tones to flow across the floor. This means consistent loudness not only for the band (even a 20-piece big band) but also your audience.
Second, the generous power rating (this Contra is 300 watts) means that the attack transients that are so important to your tone are reproduced faithfully.
And third, it's compact and portable - the entire rig fits into a floor tom-tom case!

This particular amp is a "Series I". It's been played and shows some cosmetic wear but is in excellent working condition. This is a rare chance to get an AI amp for an affordable price! Check out the online discussion forums, then come in and play it - it won't last long.
PRS Custom 22 Semi-Hollow
With Premium Top

We are very excited about this newest arrival to the Attic. Those who are lucky enough to own one of these top-of-the-line PRS guitars know how much goes into the build quality of these fine instruments.

The carved maple bookmatched 10-top (that means absolutely top grade, if you're wondering) is stunning in the Orange Tiger finish. At first glance you might doubt that this is a semi-hollow guitar, since it doesn't have the usual f-holes - but pick it up and you'll know right away: Very lightweight, comfortable even after hours of gigging, and more resonant than a solid-body.

The Dragon 2 humbuckers have plenty of beef in positions 1 and 5. The in-between 2-4 positions can dial in nice quacky tones as well. The fixed bridge is nice for those who don't ever use a whammy and gives you more sustain.

One local owner, near-mint condition, and a great price. This one won't last long!

Includes the original rectangular hard case and tags.

The specs:

Core Series, built in 2002
10-top upgrade, beautiful two-piece bookmatched carved maple top
Orange Tiger finish
Mahogany chambered body
Mahogany neck, 25-inch scale, beefier profile
Rosewood fretboard with bird inlays
Dual PRS 'Dragon II' humbuckers
Aged-look hardware
Fixed bridge
Volume, Tone and 5-way Selector knobs
Blackbird Rider

Carbon fiber instruments have grown in popularity. Fighting the weather & humidity poses a struggle for many folks, and a carbon fiber guitar might be the solution. At only 3 lbs, this Blackbird Rider could truly be brought anywhere. Hiking, boating, walking, it will work and it sounds really good. Surprisingly full for a "paddle-style" body shape. Plugged in the pickup delivers a full/warm tone. This is a hard to find, unique guitar and is no longer being made in the steel string version we hear. Grab it and have your own adventure!

The specs:

Full composite body and neck
Micarta bridge and fretboard
35.5 x 10.5 x 4.25 inch dimentions
1 3/4 inch nut width
Weighs only 3lbs!
Gotoh black tuners
MiSi pickup with volume and tone controls
Access gig bag included
G-K/Hartke Bass Rig

Here's a killer pre-owned bass rig: The legendary (and no longer manufactured) Gallien-Krueger 800RB solid state head paired with a Hartke 115XL 15-inch cabinet.

The G-K head is bi-amped, which means you have the option of separate power amps (and controls) for two cabinets - 100 watts for the highs, and 300 watts for your lows.

Driven by the G-K head, the Hartke 15-inch metal cone cabinet has enough 'oomph' to let your bass really move your listeners!

The head and cabinet are available as a package or separately.
Taylor K14c

This stunningly gorgeous Taylor has just found its way to the Attic. Its one local owner did a fantastic job of keeping it in pristine - almost mint - condition.

Built in early 1998, this instrument is all solid koa rather than the cedar top construction that was more common in the Taylor workshop at this time. This one is the rarer (and we think more desirable) all-koa version.

We can't stress enough how nice this guitar feels, plays and sounds. It has barely a nick on it after 19 years, plenty of fret life left, a nice low action, and is set up for light gauge (.012) strings.

The gooseneck microphone-style pickup sits centered in the body under the sound hole and delivers a full, open sound.

Offered at $2,199, this guitar is a wonderful opportunity to own an all-koa Taylor guitar at a very reasonable price - new Koa Series Taylor guitars are going for much, much more. The original Taylor hardshell case is included.

Click here for a demonstration of this guitar on our youtube page!

The specs:

Grand Auditorium body with hard cutaway
Solid koa top, back and sides
Ebony bridge and fretboard
Tortoise binding on body and neck
Abalone rosette
Mother-of-pearl inlays
Original gold-finish tuning machines
Ebony tuner buttons (not original)
Fishman gooseneck microphone system
Fender Silverface Vibro-Champ

Don't be fooled by the size of this little amp - it can crank!

Six watts, all tube, it was originally intended as a student amplifier but over the decades has taken on a new life as a go-to small tube amp.

With its original speaker, the characteristic sound is a bit warmer than some of its larger Fender tube amp counterparts. The volume can be super-quiet if need be but at full throttle, the amp really shines with its natural overdrive - and at at non-ear-splitting decibels. It's amazing the difference in the crunch this amp can deliver going from a single coil to a humbucker. The vibrato is a nice touch if you need it.

With this amp's simplicity, it really keeps the player honest. No bells and whistles to hide your mistakes! Harmonica players often favor this amp as well.

This one has its spots and scratches on the outer shell, but overall it is in great working condition. These silverface models are very affordable, going for way less than ones from the 50's and 60's.
Harmony Rocket
ON HOLD for a customer
Call to be put on waiting list

We've had a few Harmony guitars come through Zach's Attic and this Rocket is in especially great shape. Made in the 60's in the USA, they are a good alternative to spending thousands on another hollowbody name. There's a certain 'plunkiness' to their sound that people tend to like. Lightweight and certainly vintage, it's a nice find! Includes a hardshell case.

The specs:

H54 model with vibrato unit
40-1/2 inch length, 15-3/4 inch width, 2 inch thick body
Short scale neck
Single cutaway
Celluloid binding
White pickguard
Two volume and two tone controls
Gold-finish hardware
Vintage 1967 Epiphone Riviera

This very easy-on-the-eyes 1967 cherry-red Epiphone Riviera just arrived at Zach's Attic, and it's a beauty.

Made in the original Gibson Kalamazoo, Michigan factory, these are very desirable vintage guitars. The Riviera is a pretty tough to find model, especially in the cherry red finish which was only offered after 1966.

The specs: Classic thinline semi-hollowbody, bound body and neck, mahogany neck, rosewood fretboard with parallelogram inlays, original pickguard (the 'E' has come off), original Kluson deluxe tuners, and a 1-9/16 inch nut width.

It seems that this guitar was modified in the late 1960's to be more of a '335' style instrument. The original 'Frequensator' tailpiece has been replaced by a trapeze tailpiece. The original mini-humbuckers were also changed out for full size humbuckers.

Although these changes may not make a collector happy, the good news is that whoever did it kept period-correct parts on the guitar. The trapeze tailpiece looks to be from the 60's era. The humbuckers carry Gibson patent numbers from the late 60's and are therefore valuable in their own right.

The guitar is in excellent condition. It was well cared for and stored in a good climate. Very minimal fretwear with plenty of life left. All of the white binding has aged beautifully.

Unplugged, the guitar is very resonant and a joy to just sit on a stool and play. Plugged in, it sounds fantastic with the Gibson humbuckers, it can be loud and bright or warm and mellow. Bottom line is it sounds authentic vintage. The neck may be slim for some people but it makes playing chords very easy. The depth of the neck is a medium profile.

A vintage triangular hardcase is included
Common problems with used instruments
We see a lot of used instruments at The Minor Chord and a few common issues seem to show up in many of them. If you are thinking of buying an instrument on the private market, make sure you can spot these common flaws.
Lifting bridges
Most bridges on acoustic guitars are simply glued to the guitar top. If the glue joint starts to separate you are looking at a dangerous guitar. Six steel strings exert a huge tension on the bridge, and if it suddenly comes loose it can seriously injure anyone nearby. The staff at The Minor Chord has seen this happen - so we always inspect the bridge of an acoustic guitar before restringing it.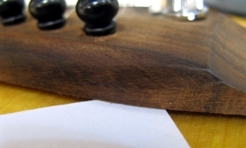 Piece of paper under a lifting bridge
If you can slip a sheet of paper under the bridge of your guitar (see picture) you should relax the string tension immediately and bring the instrument to us for inspection.
An experienced luthier can remove a bridge and reglue it, but the time and labor involved makes the process too expensive for beginner and intermediate guitars.
High action
The distance between the strings and the fingerboard is called the action height. If the action is too high the guitar becomes hard (or even impossible) to play because it takes too much effort to press a string against the fingerboard. In addition, the guitar will probably not play in tune because each string has to be stretched so much (which raises its pitch) as it is pressed down.
Proper action height depends on two factors: The alignment of the neck and the height of the saddle (the point at which the strings rest on the bridge).
Electric and steel-string acoustic guitars usually have a truss rod running down the neck that can be used to adjust neck alignment. Classical-style guitars with nylon strings typically do not have a truss rod, and the only way to realign the neck is for a luthier to remove, shim and reinstall the neck - a major operation. The same operation is required on electrics or steel-string acoustics if the truss rod doesn't have enough available play to achieve the needed adjustment.
Saddle height is easily adjusted on electric guitars using a very small allen-head wrench. The saddles on acoustics and classical nylon strings may simply lift out of the bridge and can be shaved or shimmed to achieve the correct height. If these adjustments cannot bring the action height to a playable level, an expensive neck reset is required.
A low action height is desirable for easy playing but the action cannot be lowered so much that the strings start buzzing against the frets. Inexpensive guitars tend to have uneven frets, which means that the action height cannot be brought very low at all. Resetting or dressing the frets can even them up but it is a time consuming and expensive process, worthwhile only for valuable guitars.
All of these adjustments related to action height are fussy and interrelated. It's best to leave them to an experienced luthier, which means it is usually not economical to rescue an inexpensive guitar having these problems.