Now at 80 King Street · Littleton MA 01460 · (978) 486-0112 · Interstate 495 Exit 30

What's In Zach's Attic Today?
As of July 6, 2020 we have the following used and vintage instruments in Zach's Attic:
Click on one of these instruments or just scroll down for photos and more information.
And these instruments just came in - photos and descriptions coming soon:
1981 Squier Bullet, early model made in Fullerton CA
Yamaha Silent Guitar SLG200N 'NT' classical
If you're interested in one of these new arrivals, call us or email us via our Ask Us! page to get first dibs.
Zach's Archives
Want to peek at the extraordinary range of cool and interesting instruments that have passed through Zach's Attic? Just click HERE!
Contributing to Zach's Attic
We're always looking for interesting used and vintage guitars, basses and other fretted instruments that need new homes. (Sorry, we don't accept used band instruments.)
If you have a used or vintage instrument that you think Zach might be interested in, bring it in and show it to him. (Call ahead to make sure he'll be in the store when you come.) If he likes your instrument we can work out a trade or buy it outright.
You can contact Zach by phone at the number above or via our Ask Us! page.
Our Guarantee
Buying a used or vintage instrument can be a scary process. If you don't know what you're looking for, you can easily overpay or end up with an inferior (or even unplayable) instrument.
When you buy a used or vintage instrument from The Minor Chord we guarantee it to be as described. If there are flaws in the instrument that we know about, we'll tell you. If there are significant flaws we didn't notice and disclose, tell us within 30 days and we'll cheerfully give you your money back.
The Minor Chord is a music store you can trust!

Our Used and Vintage Instruments
Zach is our store manager and head instrument buyer. He hunts down the top quality used and vintage instruments that we feature here in "Zach's Attic".
Larravee P-09 Custom

It's always nice to have a sweet pre-owned Larrivee come through the Attic, and this P-09 Custom is a fantastic little guitar. (A Larravee P-09 famously went to space a while back...how cool!)

This is a fancier, limited-production P-09 with a gorgeous book-matched Adirondack spruce top and Indian rosewood back and sides. The maple body and neck binding contrasts nicely for the overall look. Super comfortable with its petite shape, and the 24-inch scale and 1-3/4 inch nut width should feel familiar to most.

Even though it's a parlour-sized guitar, it has a much warmer, bigger sound than you would expect.

This P-09 originally sold for over $3,000 new, and it's in near mint condition. We're asking $2,699, including the original deluxe hardshell case.

The specs:

Made in U.S.A.
Parlor body size
Solid Adirondack spruce top w/matching bracing
Sunburst finish
Solid Indian rosewood back and sides
Maple body and neck binding
Mahogany neck
Ebony bridge and fretboard
Abalone rosette
Tortoise pickguard
Bone nut and saddle
1-3/4 inch nut width
24 inch scale
4 inch body depth
Larrivee 18:1 chrome tuners
Deluxe hardshell case included
Near mint condition
Taylor BBT Big Baby

Another Big Baby arrives at the Attic! Taylor describes the Big Baby guitar as a 15/16 size dreadnaught. With the 4 inch deep body and slim bolt-on neck, it plays much smaller than a typical dreadnaught, but it still produces a signature Taylor bright sound with the solid Sitka spruce top. Smooth playability with the ebony fingerboard. Excellent condition and priced to move at $299.00 in the Taylor gig bag.

The specs:

Big Baby shape, 15/16 size of a full size guitar
4 inch body depth
Solid Sitka spruce top
Arched laminate back, laminate sides
Hard rock maple neck bolt-on neck
Ebony bridge and fingerboard
25-1/2 inch scale
1-11/16 inch nut width
Single ring rosette
Tortoise pickguard
Chrome tuning machines
Taylor gig bag included
Excellent condition
PRS S2 Mira

Lightweight, smooth, and it growls! Just in we have this PRS S2 Mira in the gloss black finish. The asymmetric shape sits comfortably against the body and under the right arm. The dual humbuckers are not super hi-gain rather have a nice warmth to them. Rock n' roll and bluesy tones are easy to dial in.

The controls are simple with the single volume and tone. The tone knob is a push/pull coil tap as well to thin out the pickup sounds. A couple minor scuffs but overall in excellent condition. $799.00 in PRS gig bag.

The specs:

Made in U.S.A. in 2014
Dual cutaway, asymmetric body
Mahogany body in gloss black finish
3-ply black pickguard
Mahogany neck
Rosewood fingerboard
White dot inlays
25 inch scale
PRS locking tuners
PRS adjustable wraparound stoptail bridge with brass studs
Two PRS humbuckers
Volume and tone control
Coil tap push/pull on tone control
3-way selector switch
PRS gig bag included
Common problems with used instruments
We see a lot of used instruments at The Minor Chord and a few common issues seem to show up in many of them. If you are thinking of buying an instrument on the private market, make sure you can spot these common flaws.
Lifting bridges
Most bridges on acoustic guitars are simply glued to the guitar top. If the glue joint starts to separate you are looking at a dangerous guitar. Six steel strings exert a huge tension on the bridge, and if it suddenly comes loose it can seriously injure anyone nearby. The staff at The Minor Chord has seen this happen - so we always inspect the bridge of an acoustic guitar before restringing it.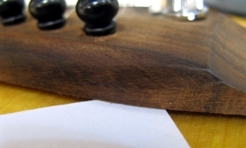 Piece of paper under a lifting bridge
If you can slip a sheet of paper under the bridge of your guitar (see picture) you should relax the string tension immediately and bring the instrument to us for inspection.
An experienced luthier can remove a bridge and reglue it, but the time and labor involved makes the process too expensive for beginner and intermediate guitars.
High action
The distance between the strings and the fingerboard is called the action height. If the action is too high the guitar becomes hard (or even impossible) to play because it takes too much effort to press a string against the fingerboard. In addition, the guitar will probably not play in tune because each string has to be stretched so much (which raises its pitch) as it is pressed down.
Proper action height depends on two factors: The alignment of the neck and the height of the saddle (the point at which the strings rest on the bridge).
Electric and steel-string acoustic guitars usually have a truss rod running down the neck that can be used to adjust neck alignment. Classical-style guitars with nylon strings typically do not have a truss rod, and the only way to realign the neck is for a luthier to remove, shim and reinstall the neck - a major operation. The same operation is required on electrics or steel-string acoustics if the truss rod doesn't have enough available play to achieve the needed adjustment.
Saddle height is easily adjusted on electric guitars using a very small allen-head wrench. The saddles on acoustics and classical nylon strings may simply lift out of the bridge and can be shaved or shimmed to achieve the correct height. If these adjustments cannot bring the action height to a playable level, an expensive neck reset is required.
A low action height is desirable for easy playing but the action cannot be lowered so much that the strings start buzzing against the frets. Inexpensive guitars tend to have uneven frets, which means that the action height cannot be brought very low at all. Resetting or dressing the frets can even them up but it is a time consuming and expensive process, worthwhile only for valuable guitars.
All of these adjustments related to action height are fussy and interrelated. It's best to leave them to an experienced luthier, which means it is usually not economical to rescue an inexpensive guitar having these problems.